For millions of Americans, Thanksgiving means turkey, parades, family, and the road-trip to reach it all. While everyone's final holiday destination is unique, there are many common stops along the way. Using Google Maps data from 2017's holiday season, we're providing insight into the places people visit around the holidays, when to visit them, and the best times to get on (or stay off) the road in 2018.
Google Maps Search Trends
To gain a better understanding of the places that people intend to visit throughout the holidays, we analyzed the number of times that people requested directions to a location using Google Maps.
National Searches
Nationwide, these are the most uniquely popular stops during the Thanksgiving holiday. If you're looking to get in on the fun but avoid the crowds, try to visit these spots on another day.
Nationally, the most commonly searched-for location during the Thanksgiving holiday is a department store. But the popularity of department stores isn't unique to Thanksgiving – they're pretty popular throughout the year. If instead we focus on locations that are searched during the holiday far more than normal, we find that outlet malls and tree farms are the most popular. Other fun places folks are headed? Amusement parks, scenic overlooks to catch a view, hiking trails, and ATV rental services.
Searches by State
Although outlet malls may be the most uniquely popular location nationally, each state has their own holiday rushes. Here are the places people are trying to find more frequently in each state over the Thanksgiving holiday than in the rest of the nation.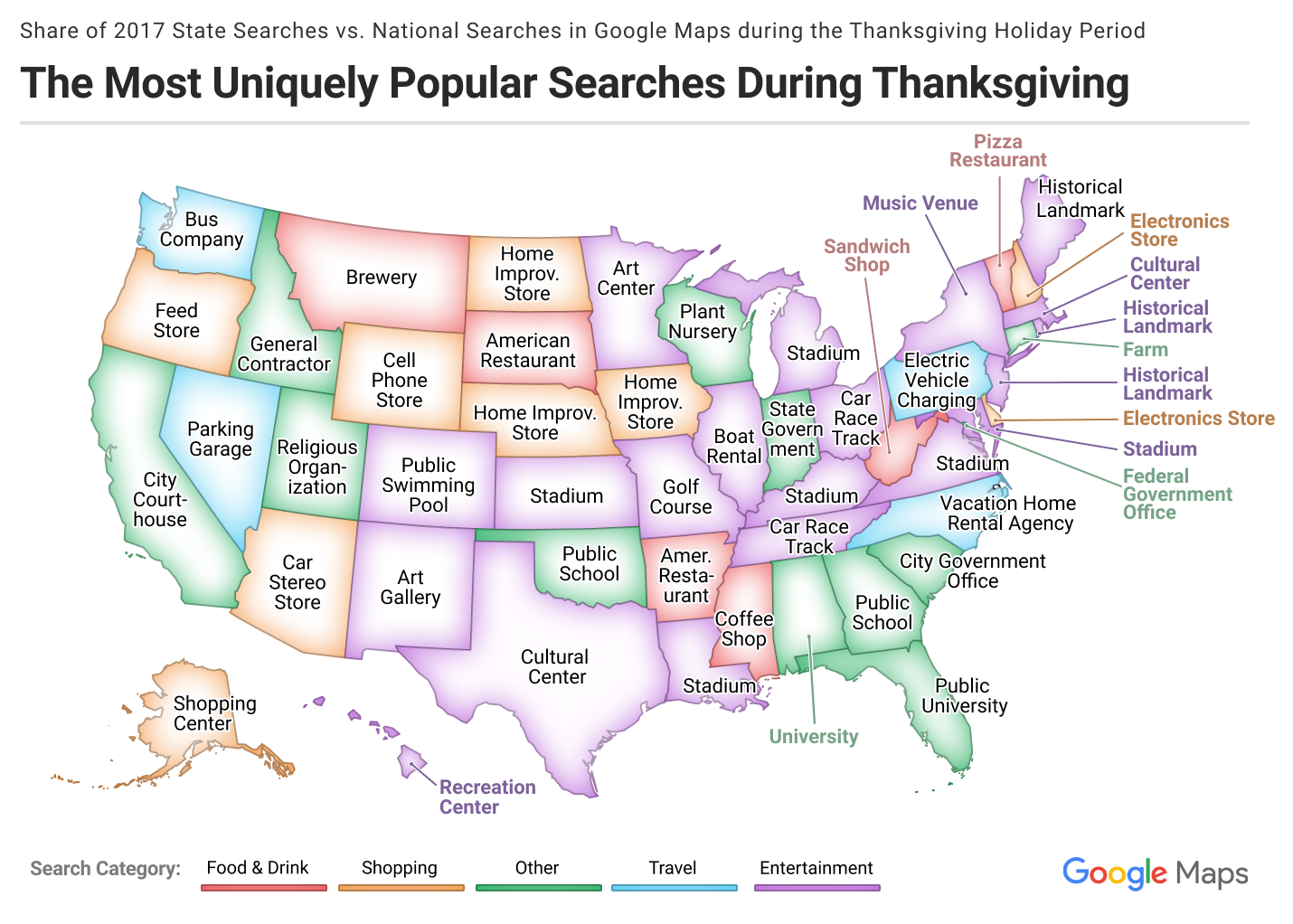 For many states, the most sought after places vary from day to day. Keep reading to find out where people in your state are heading each day of the holiday.
Uniquely Popular Search Trends in
Compared to the Rest of the US
Popular Visit Times
If there's one thing we know about the holidays, it's that lines for popular places can wrap around the block. Take a look at when certain places tend to be the most crowded so you can skip the line and save time.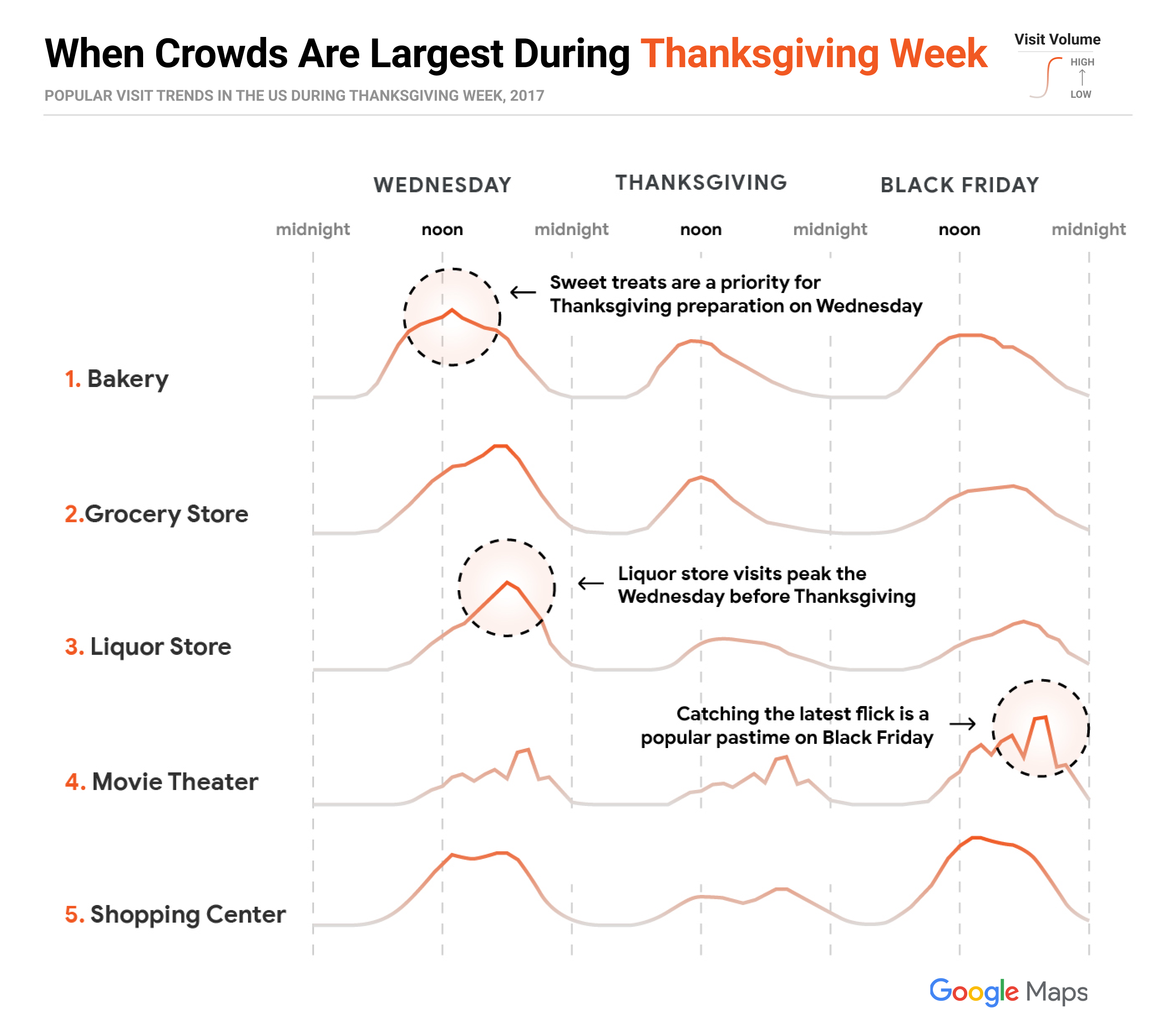 Traffic Patterns
You may be used to your area's traffic patterns during a typical week, but holiday travelers move on a different schedule. With typical traffic levels as a baseline, here's when you can expect traffic to be heavier than normal in your area.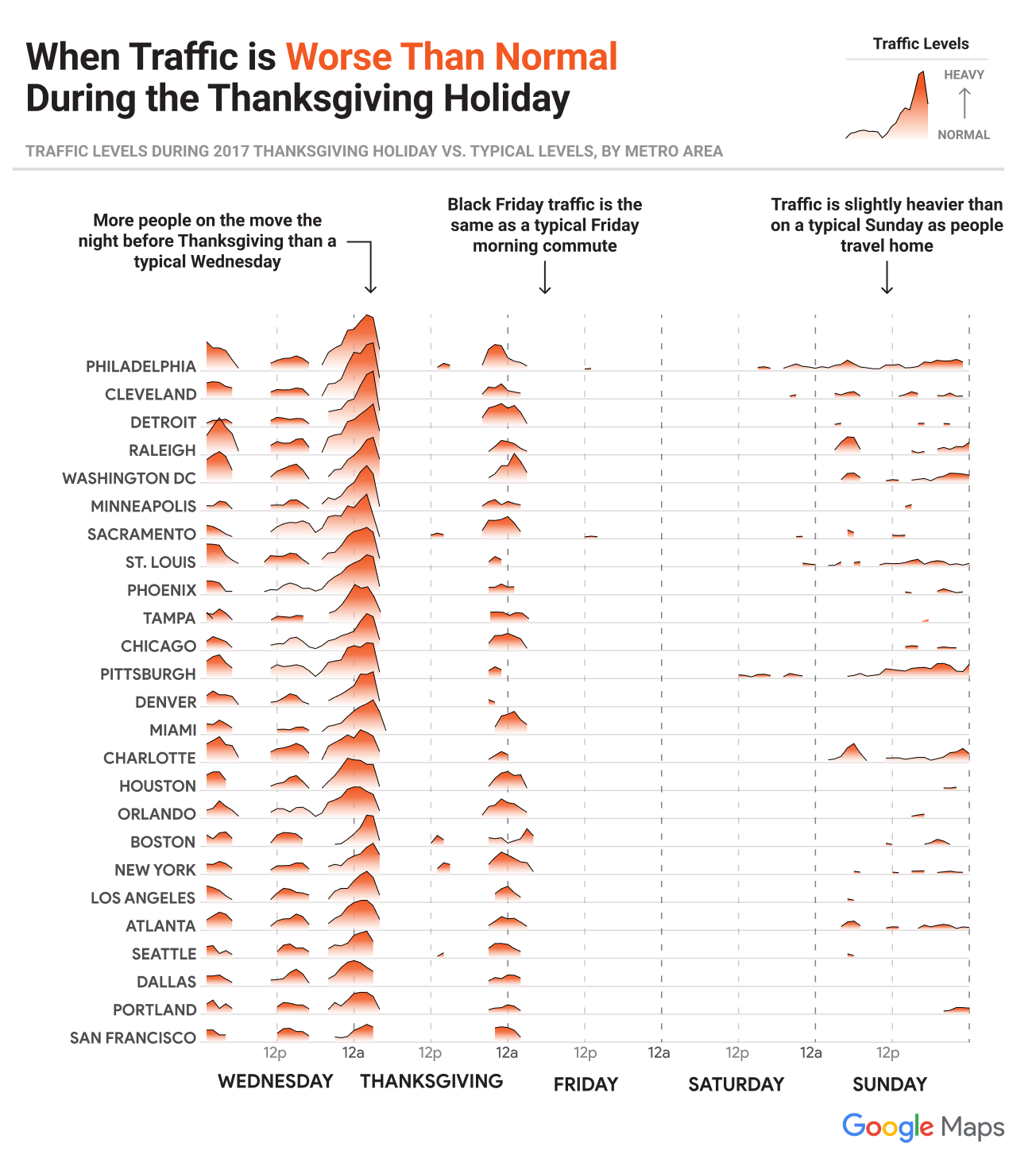 Avoiding Traffic
On a typical weekday, we can try to avoid traffic in our area by staying off the road during rush hour. But when is the rush during a holiday period? With everyone on their family's unique schedule, it can be hard to pinpoint the best times to travel. Here's what we recommend based on last year's Thanksgiving travel data.
When Should I Leave
For My Holiday Road-Trip?
Show me only daytime travel
See how traffic changes on different days
Whether you're planning to see what all the buzz is about at Wisconsin's plant nurseries or you're just trying to skip the gridlock, have a very Happy Thanksgiving.